About us
Welcome to SAIDINA EXCEL CANOPY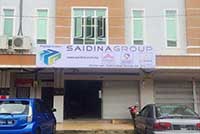 Sadina Excel Canopy is fully owned by Saidina Excel Services Sdn Bhd (no. Registration: 1121253-T), a Bumiputera company which carries on canopy supplies business.
Saidina Furniture is one of the business branch under Saidina Group, which has a large business network consists of Canopy supplies and rentals, Marquee Tent, office and steel products supplies and Website development and online marketing services.
SAIDINA EXCEL SERVICES SDN BHD (Saidina Group) was established in 2005 (formerly known as Saidina Excel Service) initially was a canopy rental service provider for wedding occasions and other small events to the community around Batang Kali area in Selangor.
At beginning, in 2008, the Company has grown to provide canopy rental and transport services over the district of Hulu Selangor.

In 2010, by using a branding name of Saidina Excel Canopy, the company set up a Marketing Department to widen their business activities in supplying of all types of canopy and accessories to all canopy rental operators throughout Malaysia, as well as providing a canopy rental, catering and transportation services to the local residents. The Company continued to grow rapidly and more active in providing professional services.

In early 2012, We developed our official website www.saidinaxlcanopy.com.my which was more dynamic, informative and user friendly. We offered variety of products of canopy, marquee tent, canvas and accessories either for sale or rentals. Saidina Excel Canopy successfully attracted many customers by offering the cheapest price for good quality products. We had a great moment in 2013, which is a year we jumped into office and school furniture supplies business called Saidina Perabot. We gain more customers throughout Peninsular Malaysia, Sabah, Sarawak and Brunei in supplying our products.   
In 2014, Saidina Excel Canopy was registered as a Sendirian Berhad with more capabilities in business competition after gain vast experience in Supply and Services.

Saidina Group has made more rigorous planning and innovation for all aspects of administration, operations, logistics, marketing and sales. The company has a vast vision and mission to deliver quality products and services to the highest level of global market. We continuously strive to improve our ability to expand our scope of expertise and explore wider markets with bigger challenge.
Saidina Group has a team who was specially trained to provide a high quality services and efficient in their respective fields. We are very concerned about an incredibly luminous quality and customer satisfaction that became the basis of our services.

We are constantly doing research in terms of product quality, price, customer service, marketing and most importantly customer satisfaction. Each aspect will be taken into account to strengthen the team, the products and services.
We seek more business opportunity to widen our market control by serving better value to all the customers which are their right to get the best of us. Our leadership in Canopy & furniture supplies will ensure a world class supply base focused on continuous improvement and the optimization of total costs that supports Saidina Group business requirements and is aligned with our goal to help our customers succeed.
OUR CLIENTS
MAIS Zakat Sdn Bhd
Gamuda Water Sdn Bhd
Puncak Niaga Sdn Bhd
Jord (M) Sdn Bhd
CIMB Btg Kali
MMC-Gamuda KVRT
PAID KKB - Pejabat Agama Islam
Zastra Sdn Bhd
Ceruk Kampong Food Industries Sdn Bhd
Koperasi Wawasan Seroja Sepang Berhad
Kemaman Bitumin Company Sdn Bhd
Bir Ha Management Sdn Bhd
Seri Bayou Lagoon Park Resort, Melaka
Amat Sinar Sdn Bhd
Kolej Komuniti Hulu Selangor
Institut Profesional Baitulmal, KL
Universiti Kebangsaan malaysia
Unit Bimbingan dan Kaunseling SKPTLDM, Jeli, Kelantan
Hotel Singgahsana
Hotel Seri Malaysia
Yen Bee Auto, Cheras
Syarikat BK, Kuching, Sarawak
Gofocus International Sdn Bhd
Jurus Positif Sdn Bhd, Petaling Jaya
JR Success Group Sdn Bhd, Kelana Jaya
OMG Brands
Bestway Resources
LNS Hardware, Kuala Terengganu
Moly Arts Sdn Bhd, Kuantan
Rashtahul Resources
SMK Jerangau, Dungun
SMK Seksyen 7, Shah Alam
SMK Seri Bentong, Karak
Masjid Al Ehsan Seksyen 24 Shah Alam
Masjid Tengku Kelana Jaya Petra
Masjid Kariah Paroi Jaya, Seremban
Masjid Kubang Ikan, Terengganu
Surau Syukuriah Prima Saujana
Surau At-taufiqiah Jalan Menteri KL
Surau Al Falah Kota Damansara
Surau Al Ikhwan Tg Malim
Surau Al Hidayah, Kuala Langat
Surau An Naim, Huku Bernam
Rumah Anak2 Yatim
Individuals and canopy rental services throughout Malaysia
and many others...

TOP